Gates Open: Friday June 24, 10am 'til Sunset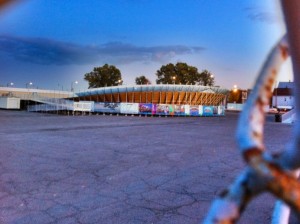 Friday June 24 from 10am until sunset- the track's gate will be open for all visitors.
Carl Wilkins will be leading the day and board member Pablo Calderón will be helping part of the day.  They'll be welcoming helpers and riders alike…  No promise on how much riding time there'll be but Carl's the judge on track condition and is intimate with the remaining repairs needed.
SCVA is working with a skeleton crew of volunteers, especially at the leadership levels.  We couldn't have kept the track here for this long without those who have given their time and resources so far and everyone appreciates the work up to this point.
Looking forward- you're encouraged to reach out through our contact form and contribute your ideas or time to making the velodrome work for the needs of you and your part of the community.
Reach me directly, any time with an email or telephone call 872-588-7282 (Luv-SCVA).  Thanks, -Marcus