"Final Touch" Weekend and Junior Mechanics Scheduled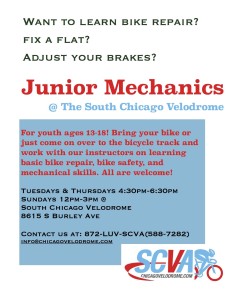 It's less than a week until the four year anniversary of the Velodrome being completed in South Chicago and our Junior Mechanics program, for 13-18 year olds, kicks off next week. Check out a brief intro here. No program fee.
Runs Aug. 11 to Sept. 20
Tuesdays and Thursdays 4:30-6:30pm, Sundays 12-3pm
We'll try to finish patching the track and assembling the entrance ramp this weekend, as well as continuing with grounds clean up and keeping the grill hot.  Check the volunteerspot page for details and sign up for a slot.  We enjoyed hosting a number of new helpers last weekend; let's continue this trend.
SCVA is currently taking nominations for Officers and Directors; look for tomorrow's blog post to list positions and descriptions of duties.